Back to Blogs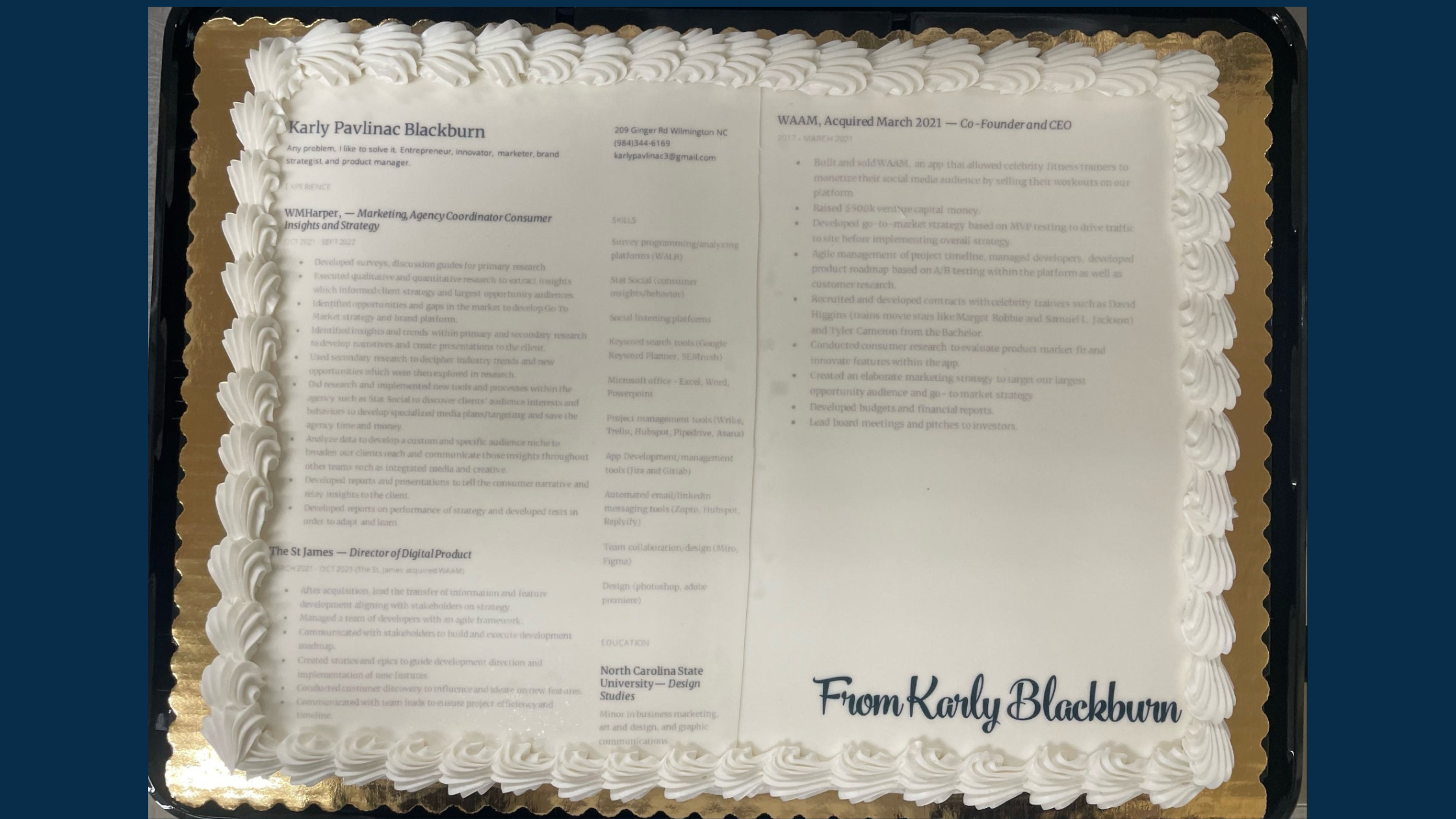 Have you ever wanted a job badly enough to send a cake resume?
Career progression is a high priority for many professionals, and many have a dream job they are working towards. It may be a specific type of role, or company that you ideally want to work for. Careers progress and evolve over many years, even decades, and achieving your dream role takes purposeful and proactive action.

A woman in the US recently went viral for her creative concept in sending her resume to land a dream role with Valiant Labs, Nike's new business incubator. Although they didn't have any openings at the time, Karly Pavlinac wanted to express her enthusiasm in working for them.

Karly's brilliant idea was sending her resume as edible icing on a cake to Nike. However she lived on the other side of the country to Nike's headquarters. Karly went to incredible lengths to find a cake store that offered screen-print frosted photos on cakes, which happened to be 7kms from the Nike World Headquarters. She ordered the cake and had it delivered by a courier, contacting the courier to ensure it was delivered directly to the right person once they arrived at Nike Headquarters.

The LinkedIn post she shared about her story has since received over 130,000 likes and 5,000 comments. She's been interviewed by numerous media outlets including Good Morning America, helping her fill her calendar with interviews for potential roles.
Progressing to your dream role
Once you know what your dream job is, the next step is to figure out where you are now, relative to your goal. Seek is another great resource for researching specific career progressions and jobs to understand the job opportunities, job growth and typical tasks of your dream role. ​
Steps to take:
Research what the knowledge, skills and experiences are needed to be successful in your dream role. You can do this by searching job descriptions for roles you want, and networking with people who are in similar jobs that you want.

Document the professional development areas you need, then find ways you can learn and develop these skills and experiences. It may be through additional training and qualifications, mentoring, or tasks you can assist with to gain experience in your current position.

If you have a specific company or a few companies in mind you want to work for, then begin researching everything about the company. You will want to understand the types of roles they have, the company culture, and their approach for hiring new employees.
Build your network
Building your network is one of the most critical steps to landing your dream job. This will give you a competitive advantage as often it's who you know that can help you get a foot in the door to your dream role.Up to 70 percent of all jobs are not published on job search sites, further emphasising the importance of networking to help you discover jobs before they are advertised.

Network building includes:
connecting with colleagues and mentors in your industry

attending industry events

conferences and workshops to stay up to date in your industry
​
What would you do to stand out to land your dream job?
A common mistake job seekers make is taking a standard approach when marketing themselves for a job. Often employers are looking for people who are passionate about the role and the company.
Your resume must stand out to highlight your skills and experiences that make you perfect for your dream role. You may even take it one step further by researching some creative ways to stand out when applying for your dream role.
​
Key takeaways to progress your career and land your ideal role
You need to make sure you know what your dream (or at least your ideal role) would be and with who

You need to get creative - think about not just your CV but other ways you can stand out.

Call to follow up on your application, connect with the hiring manager on Linkedin and send a note (all very easy and will make you stand out. Even though they are easy, hardly anyone does it.

Putting in some time and planning into looking for a new role can increase your chances of finding your ideal role significantly.
Landing your dream career requires a proactive and purposeful approach. Hopefully this has provided you with ideas for progressing your career and landing your dream role.

At Reimagine Talent, connecting talented candidates with dream jobs is what we do. Our team are always here to help and we're passionate about helping you find the right next step in your career, so please don't hesitate to get in touch.
If you're looking for a new role, please register with us via the Expressions of Interest job ad.