Recruitment Specialists in
Business Support
​Every business relies, in part, on their support team. A strong admin team can be the difference between a business being successful or unsuccessful hence why admin support plays a vital role.
The COVID-19 lockdowns of 2020 and 2021 were a challenge for many office-based businesses that had never before considered, or attempted, remote working conditions. Business Support staff quickly pivoted from office facilities management, booking travel arrangements, paper-based processes and face-to-face meeting administration, to Zoom/Teams meetings, cloud-based document collaboration and simply 'keeping the cogs turning' with makeshift arrangements. These unprecedented circumstances highlighted the often unseen 'behind the scenes', yet essential services that business support staff provide and importance of transferable soft skills such as strong communication, adaptability, critical thinking, self-motivation and organisation skills in these roles. In the 2022 'COVID-normal' landscape, the trend towards a hybrid work model has once again required those in Business Support to respond dynamically to changing staff movements and associated practical implications.
At Reimagine Talent, we strive to unearth our candidate's potential and unique 'hard' and 'soft' skill sets, to support business growth, and to support our candidates in having meaningful employment that add to their wider lives - Tabitha West, Founder, Reimagine Talent.
​
Our Business Support Recruitment Expertise
Reception

Admin All Rounder

Office Management

EA | PA

Contracts Admin

Data Entry

Customer Service

Team Assistant

Project Coordinator

Logistics Admin

Operations Admin

Corporate Admin
Our Accountability
At Reimagine Talent we have a strong ethos of accountability. We continuously strive to challenge the status quo and want to set a higher standard in recruitment practices. To genuinely share our commitment to 'raising the bar' we've linked up with Recruitment Insider, a company that independently and anonymously gains client and candidate feedback throughout the recruitment lifecycle, including the interview and offer stage, as well as employment commencement and 30 days after - Tabitha West, Founder, Reimagine Talent.
​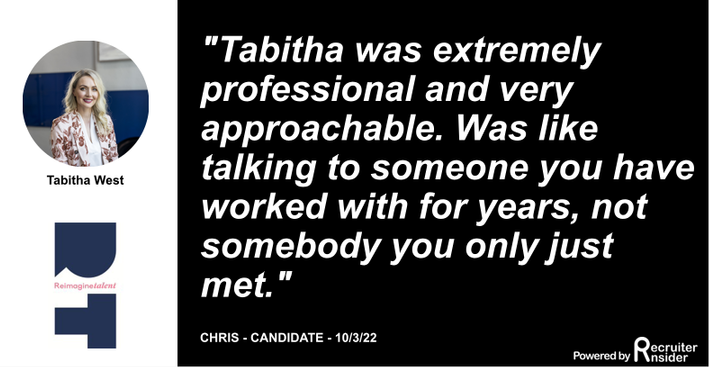 ​
​Prior to working with Reimagine Talent I was reluctant to offer any recruiter sole recruiting rights. Extended processes and shallow candidate pools were often a disappointment. This is not the case with Reimagine Talent, there is no hesitation. There is a level of confidence, trust and passion that comes through strongly in what they do.One of our biggest recruiting challenges we faced before working with Reimagine Talent was struggling to find 3 or more potentially suitable candidates for a position. We were surprised by the speed, quality and depth of candidates provided by Reimagine Talent. Tabitha took the time to understand the organisation, culture and hiring managers style to find the right fit candidates. She also provided perspective on fit, strengths and weaknesses based on the understanding of the role and hiring managers style.

Michael Minahan

, National Supply Chain Manager

Fantastic experience working with Tabitha and the Reimagine Talent team. As a candidate, the post placement 'Ready for Success' coaching program was a great way to start a new position with expert support from an experienced professional coach during those first few months in a new position. Great concept and well managed - I highly recommend the 'Ready for Success' program offered by Tabitha as a unique value adding service.

Wayne Kelson

, Senior HR Business Partner

​Looking for a new role can be a daunting process and preparation is the key. I chose to engage with a recruiter to assist with my job search. Fortunately, I was able to connect with Tabitha West from Reimagine Talent. The notable difference with their approach is how they prepare candidates for potential suitable roles. Reimagine Talent assisted in the preparatory work including conducting cognitive and psychometric testing to highlight strengths and potential areas for improvement. Most importantly, they assisted in identifying roles that would suit my individual results coupled with my professional background. Their pragmatic approach and helpful advice / coaching has been second to none, which built my confidence as a candidate knowing that the preparation was done. I highly recommend Tabitha and Reimagine Talent when looking for new opportunities.

Pat Scira

, National Purchasing Manager

​I strongly recommend Reimagine Talent specifically, Tabitha West. Her professionalism, dedication, support through the recruitment process from providing information, to coaching and advising through the interview process and finally the employment offer has been second to none. Tabitha has been a representation values of respect, care, dedication not only for her employer clients but also employees such as myself searching for a job. One of the great quality of Tabitha has been to value my time, truly listen to me and my wishes, verify my ability and skills through our one on one communications, and finally invest time and effort in away that was mutually beneficial. I therefore recommend Tabitha and Reimagine Talent not only for those who search for their next adventure, but also for employers who are seeking the best in their long term investment of skilled and experienced talent.

Nazir Nooristani

, Supply Planner